I'm at... :

home

I feel... :

mellow

♪♫♥~ :

Garnet Crow - Nostalgia
I feel... :

grumpy

♪♫♥~ :

ZARD - Tomatte ita Tokei ga Ima Ugokidashita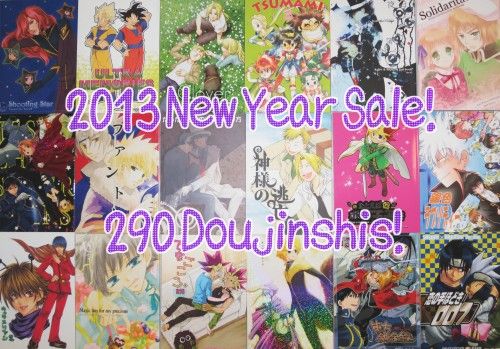 2013 New Year Doujinshi Sale! 290 doujinshis available!
Series: Detective Conan, Dragon Ball, Fullmetal Alchemist, Gintama, Hikaru no Go, Mashin Eiyuuden Wataru, Naruto, Toward the Terra, Yu-Gi-Oh!10% off
if you buy
$30+
!
20% off
if you buy
$65+
!
25% off
if you buy
$100+
!
*price before shipping, no discount on shipping.
All series preview download pack (243MB):
https://www.sendspace.com/file/ziwt5j
password: 2013Jan
**CLICK HERE FOR BLUE EXORCIST DOUJINSHIS**
(
More info about the Sale
Collapse
)
(
Detective Conan / Case Closed [63]
Collapse
)
(
Dragon Ball [13]
Collapse
)
(
Fullmetal Alchemist [132]
Collapse
)
(
Gintama [2]
Collapse
)
(
Hikaru no Go [2]
Collapse
)
(
Mashin Eiyuuden Wataru [16]
Collapse
)
(
Naruto [27]
Collapse
)
(
Toward the Terra [23]
Collapse
)
(
Yu-Gi-Oh! [10]
Collapse
)
(
Shipping & Handling info
Collapse
)
I feel... :

determined

♪♫♥~ :

GARNET CROW - Hellow Sadness
I feel... :

artistic

♪♫♥~ :

GARNET CROW - Rhythm
They are all fanmade items by me and are in no way affiliated with the official owners.
Pre-order for the Cute Anime Earrings and Sleeping Masks ends on
June 22, 11:59am PST
.
Series: Fullmetal Alchemist, Puella Magi Madoka Magica, Pokemon, Detective Conan
To order, please either:
1) send me a note via deviantart
2) e-mail me at edo.aru[at]gmail.com (please put MiniComi or something like that in the subject)
3) MSN me at sherrychan4869[at]hotmail.com
4) Comment on this post (not preferred, lj lags for me)

MiniComi: Cute Anime Sleeping Masks
by *
sherri-pon
on
deviantART

MiniComi: Cute Anime Earrings
by *
sherri-pon
on
deviantART

Conan: Question Mark and Exclamation Mark
by *
sherri-pon
on
deviantART
Thanks for reading! =3
Please click the links below for more details at my deviantart page. Thanks!
I feel... :

cheerful

♪♫♥~ :

GARNET CROW - JUDY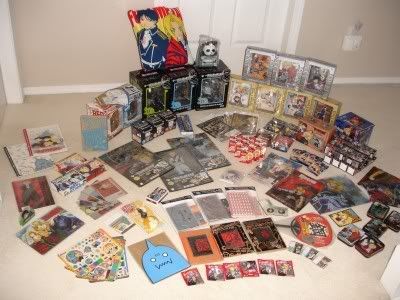 *Click to enlarge!
(
More sale info under the cut, please read prior to buying.
Collapse
)
Thanks for reading!
I feel... :

excited


- I still love Ed x Al, despite not active in the fandom. XD My doujinshi pile has been growing steadily lololol
- And of course that means I still love FMA. My FMA goods collection has been growing too XD;
- I will be going to Minicomi (minicomi.orangesanctuary.com) on July 23rd. Come find me if you are going too! :D
- I recently re-read Naruto chapter 1-546 and wondering... what the heck is going on with this series now o__O. FYI, I stopped reading Naruto back in 2007 and I decided to pick it up again since I heard it seems to be ending soon. Sasuke used to be my favourite character back then but he's probably one of my least favourites now. =( My favourite now is Naruto and Hinata despite I still sorta ship Naruto x Sasuke... XD;;; wut
- School has been as tough and brain-smashing as usual. 8D
- Despite being a fansubber for a few years, I have forgotten most of the fansubbing techniques I learned since I stopped for 2 years... OTL
- My love for GARNET CROW has been bigger than ever 8D I just bought their newest single Smiley Nation since my photo was chosen to be part of the PV XD
- I recently rewatched Toward the Terra and *cries a river*
- I'm currently catching up with Gintama anime (I have been up-to-date for manga)... TOO MUCH LOLZ. I love you Kagura. XD I actually ship Shinpachi x Kagura but I haven't found anyone who likes this ship as well. I'm somehow not into any yaoi pairings in Gintama... weird I know.

And now I'm too sleepy to keep writing. XD *goes sleep*
I don't even remember the last time I made a post about myself here. Let's just say something happened regarding to someone related to this lj account, so I didn't feel like talking about myself here anymore... but for those who still wonder about how I'm doing, here is a blurb about "me"...
I feel... :

sleepy

♪♫♥~ :

GARNET CROW - Hachigatsu no Yoru